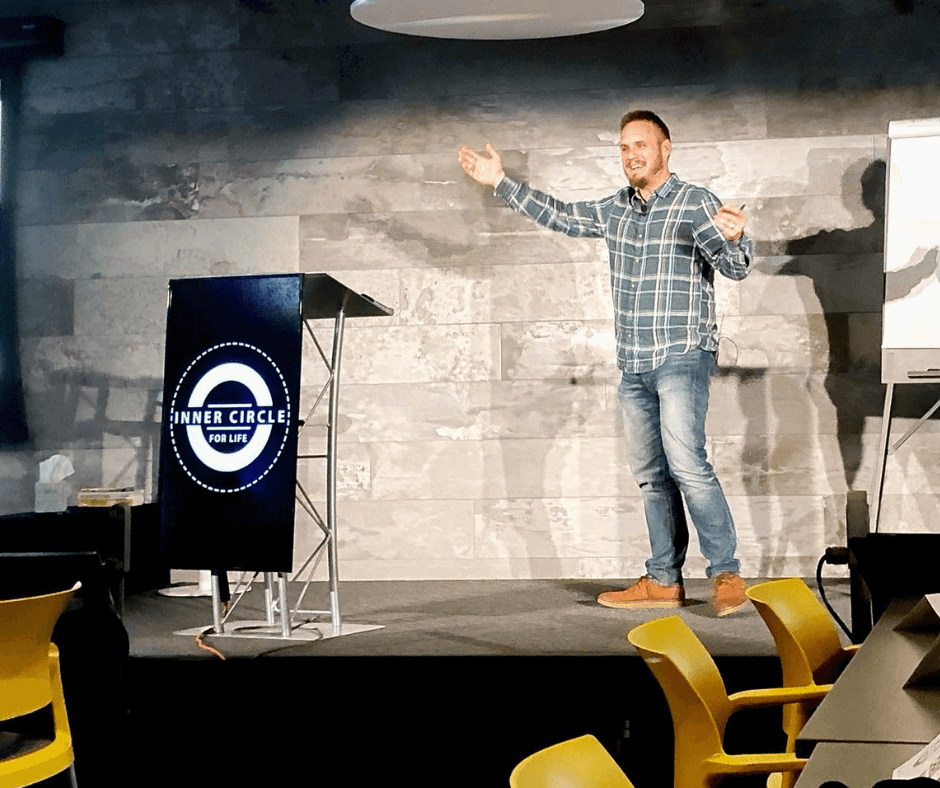 Confidence is the ONLY reason I've been able to develop my sales ability in my web and digital marketing business, even though I wasn't born to sell.
Have you ever felt slimy or gross at the idea of having to convince someone to buy something?
Or, have you dreamed of hiring (or partnering with) a sales person so you could focus on what you love?
Well, that's the way it was for me…
I got back on my mountain bike after a 2 month break.
While riding, I discovered an obvious lesson about sales confidence that totally clicked for me and I'd like to share…
You see, I'm still a new rider and the last time I was riding was not very fun for me.
Here's what happened…
Coming around a sandy turn, my bike came out from under me sending me flying into the rocks and cactus.
I was bloody and beat up with a face full of jumping cholla cactus. It's nasty stuff, look it up.
I wasn't hurt badly…
But, my ego was bruised.
I ended the ride early and headed home.
Now, my bike has been gathering dust for the last 2 months. (And not the good kind of dust from the trail.)
Last week, I finally made plans to ride again.
When my friend Marcus showed up at my office at 3pm…
Honestly, I didn't feel like going.
I was engrossed in my work and had second thoughts about going.
But, I had already made the commitment and he was already standing in my office.
Plus, my bike was already loaded up on my Jeep.
I had no excuses except for me being "stuck" in my own routines…
I shut the laptop, threw it in my bag…
And, together we headed off to the trail.
Now, Marcus is a good rider. He was blasting through every turn and I had a hard time keeping up.
I took each turn slowly. Hitting the brakes more than I should.
Each time I took a turn, I spotted soft sand and immediately freaked out…
My body went into preservation mode.
All I could think about was falling off the bike.
In fact, as I went through the turn, I could almost FEEL the bike coming out from under me.
My confidence was rock bottom.
I felt as if this bike I was on wasn't built to handle these rocky sandy trails. I started to question if this bike could handle it.
Then, it hit me…
It wasn't the bike that couldn't handle the turn, it was me!
If I was imagining failure in each and every turn, what was I going to get?!
Failure, of course!
So, how would this be any different in my own business?
Like in sales….
Sitting in front of a prospective client in the middle of a critical conversation, having thoughts like…
… what if they don't like me?
… what if I make a mistake?
… what if I'm too expensive?
… what if I say the wrong thing?
… what if they find out I'm new at this?
… what if they think I'm no good?

These are the exact fears that would run through my head…
And, sometimes these were the exact fears that prevented me from engaging a prospective client in the first place!
The reality is, we get wounded in business too.
This is not an imagined wound, but a real one.
Here's the truth…
Sometimes the client won't like you, or will say you're overpriced….
They'll tell you NO and hire someone else.
But, here's the lesson…
Negative self-talk, worry and self-doubt will never help you through the turns your business throws at you.
Never.
In sales you have to put aside your fears and heal your wounds.
We all have them.
Now, I know it's easy for me to sit behind my keyboard and tell you, "Hey man, be more confident!"
But I want to take it further than just giving you a good story and advice.
I found when I had a service I could be confident in, my confidence (and sales) skyrocketed.
In my agency, one of the services I use to help new sales people gain confidence in selling for me is Review & Reputation management.It's all about helping local businesses get more 5-Star reviews.
The reason why it builds confidence in my sales people is…
It is something already on the mind of local business owners.
It is something sold at an affordable price point.
It is something that can get a client results very fast.
When you have something businesses want, they can afford, and it gets them a result- this is the perfect combo.
My sales team (especially new ones) routinely receives positive feedback from clients which only builds their confidence.
Whether you are looking to build your own confidence or build more confidence in your sales team, you're going to want to check out this no cost, on demand training.

Mike Schmidt
Founder
AgencyCoach